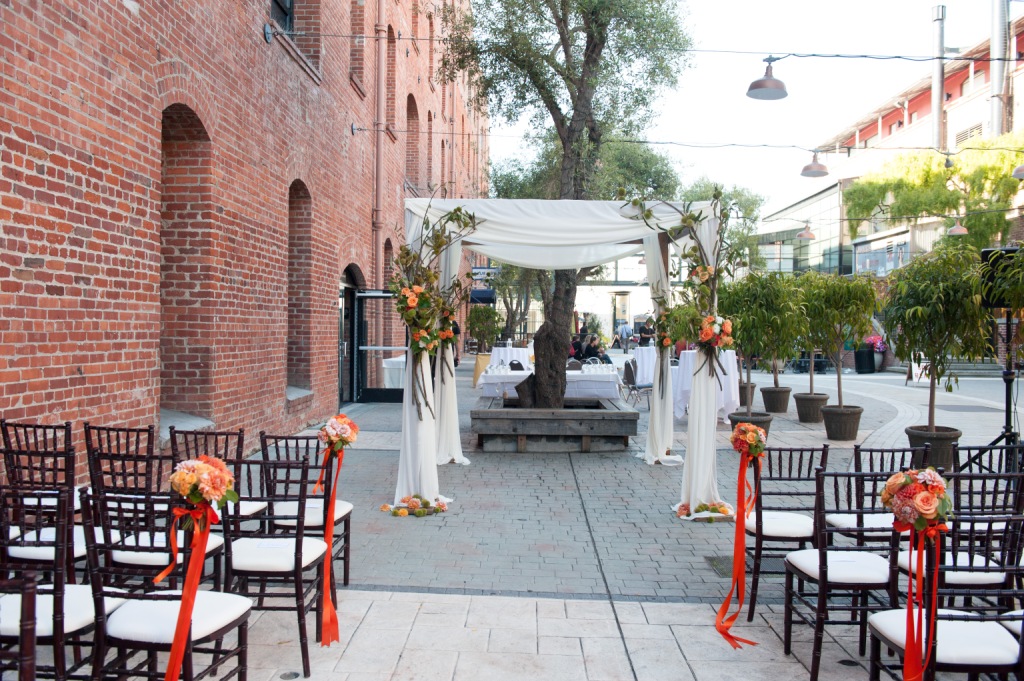 Sleeping Rooms: 221

Suites: 12

Meeting Rooms: 4

Total Meeting Space: 1,900 Sq. Ft.

Largest Meeting Room: 1,250 Sq. Ft.

Sleeping Rooms: 252

Suites: 13

Meeting Rooms: 6

Total Meeting Space: 8,850 Sq. Ft.

Largest Meeting Room: 4,200 Sq. Ft.
This luxurious Fisherman's Wharf Hotel offers more than 8,000 square feet of flexible Meeting and Function space making this Kimpton Hotel the ideal setting for your next Meeting or Social Event. Event Planners will find the column-free Golden Gate Ballroom, the largest Meeting room on the waterfront and Fisherman's Wharf, can be divided into two or three rooms to accommodate up to 350 people for Meetings and up to 500 for a reception in a variety of styles and configurations. Events can also be held in the adjacent courtyard that separates the hotel from the historic Del Monte Cannery Building. If your guests or delegates need hotel rooms, the Argonaut offers some of the most picturesque accommodations in San Francisco. Many of their rooms and suites provide stunning views of such landmarks as the Golden Gate Bridge, the SF Bay, the Coit Tower and the Transamerica Pyramid Building.
Categories: Hotel, Wedding, Meeting, 200+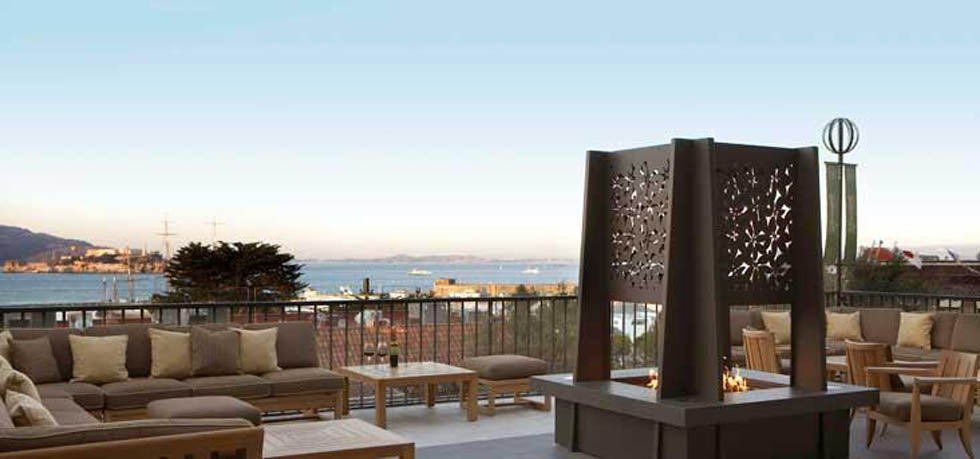 Suites: 53

Meeting Rooms: 1 indoor, 2 outdoors

Total Meeting Space: 2,275 Sq. Ft.

Largest Meeting Room: 1,000 Sq. Ft.
The cornerstone of Ghirardelli Square, Ghirardelli's illustrious chocolate factory, has been reinvented as Fairmont Heritage Place, Ghirardelli Square. The San Francisco residences allow you to experience one of the city's most precious jewels in a new and intimate way. Offering nightly accommodations in one, two, and three bedroom luxury residences in San Francisco, Fairmont Heritage Place, Ghirardelli Square affords you all the comforts of home with the world-class service of Fairmont that today's discerning travelers have come to expect. Set on the the City's dynamic waterfront, Fairmont's San Francisco Bay Area accommodations offer the ideal base from which to explore the City. From arranging dinner reservations or sailing excursions to booking tickets for theatrical, cultural, or sporting events their unparalleled personalized service allows you convenient access to all that San Francisco has to offer. The outdoor Carillon (450 sq ft) overlooks the Bay and Ghirardelli Square and can comfortably seat up to 40 guests for a dinner or event, and up to 60 guests for a reception. Ideal for either a daytime or evening event, pair this spectacular venue with one of their Mustard Terrace Residences to complete your unforgettable occasion. The Mustard Terrace is a 1,000 sq. ft. outdoor venue with panoramic views of the Bay. Complete with plush couches and fire pit, this popular venue is ideal for groups of up to 100 for reception-style and can be rented in its entirety, alongside the Mustard Terrace Residences. Known as one of the most prime destinations in San Francisco, the Mustard Terrace is bound to "wow" your guests. The Nursery Terrace (825 sq ft), located off of the Lounge is a wonderful venue for events for up to 40 guests. Overlooking Ghirardelli Square and equipped with small fire pits, the Nursery Terrace is a great location for smaller receptions or private events, whether it be in the daytime or evening.
Categories: Hotel, Waterviews
Sleeping Rooms: 252

Suites: 35

Meeting Rooms: 2

Total Meeting Space: 1,500 Sq. Ft.

Largest Meeting Room: 1,500 Sq. Ft.
With 252 fresh and crisp newly renovated guest rooms and 1,600 square feet of function space, our space is ideal for efficient smaller sized meetings of up to 65 attendees, classroom style. High speed wi-fi is complimentary throughout the hotel.
Categories: Hotel
HoTEL ZOE Fisherman's Wharf
425 North Point Street, San Francisco, CA 94133 | 415-561-1100 | Website
Sleeping Rooms: 221

Suites: 12

Meeting Rooms: 4

Total Meeting Space: 3,196 sq. ft.

Largest Meeting Room: 1,250 sp. ft.
Let Zoe craft San Francisco meetings that are unique and memorable.

With her boundless energy and refined sensibility, Hotel Zoe is bound to impress at your next meeting, wedding, or social event.
Hotel Zoe offers more than 2,000 square feet of flexible meeting and function space, making this Noble House Hotel the ideal setting for your next meeting or social event.
Categories: Hotel, Weddings
Hyatt at Fisherman's Wharf
555 North Point Street | 415-486-4410 | salessfofw@hyatt.com | Website
Sleeping Rooms: 313

Suites: 8

Meeting Rooms: 13

Total Meeting Space: 18,341 Sq. Ft.

Largest Meeting Room: 6,696 Sq. Ft.
Inspired by its location in San Francisco's #1 destination, Hyatt Fisherman's Wharf has just completed a one million dollar renovation of the hotel and 19,000 square feet of function space. The new décor reflects the hotel's proximity to Fisherman's Wharf, incorporating the silver shimmer off the water's surface and the netting used for fishing. The new meeting space showcases a contemporary, pleasant look and feel. The Hotel provides a variety of flexible and modern meeting venues and conference rooms. From ballroom to boardroom, the tastefully appointed meeting facilities at Hyatt Fisherman's Wharf can be set up in just about any style to satisfy your unique requirements. Situated near leading businesses and conference centers like the Moscone Conference Center, the hotel is an ideal choice for business travelers. All meeting and conference rooms are located on the same level, just off the elevators providing convenient access for attendees. To ensure your event exceeds your expectations, all of our facilities offer individual controls for heat / air conditioning, sound, music, telephones, multiple electrical / microphone outlets, audiovisual equipment, and 100V single-phase and 220V single-phase electricity, and high speed Internet - wired or wireless. The Presidio Ballroom is the largest meeting venue at Hyatt Fisherman's Wharf offering an elegant setting for any event. Skylights providing natural daylight and a beautiful fireplace add glowing warmth to this spacious room. Host a welcoming session to kick off your annual employee conference in a theater-style set up for 275 attendees, or plan your final gala with a formal seated banquet for 250 guests. The adjoining North Point Lounge with a domed glass skylight, fountain, fireplace and built-in bar works perfectly for all your pre-function needs, from event registration, continental breakfast buffets prior to a morning meeting, to an evening of cocktails and entertainment. Comfortable seating areas throughout the open room provide every group plenty of room to socialize with ease. The C.A. Thayer room is a versatile conference space for any number of meeting styles. Spacious enough to accommodate 180 for a classic reception, this room also allows you to hold training sessions in a classroom setting for 120, committee meetings in a U-shape for 45, even a formal banquet for 60 guests. The Amador / Marin / Solano / Balclutha rooms are conveniently situated alongside the Presidio Ballroom. This collection of mid-sized meeting rooms is ideal for breakout sessions from the main event. Gather together teams to create new ideas for company growth in a hollow-square formation for 40, or hold continuing education sessions in a theater set up for 75. The Larkspur / Sausalito / Tiburon rooms border one side of the Presidio Ballroom offering inviting spaces for hosting more intimate events.
Categories: Hotel, Weddings, 200+
Sleeping Rooms: 285

Suites: 13

Meeting Rooms: 8

Total Meeting Space: 8,835 Sq. Ft.

Largest Meeting Room: 3,526 Sq. ft
The hotel offers exceptional event menus that are sure to inspire any corporate gathering or meeting. Distinctive meeting rooms in Fisherman's Wharf total 7,000 square feet and accommodate up to 250. Their meeting venues are in the heart of Fisherman's Wharf close to popular San Francisco attractions. Host a meeting in the Executive meeting room with a built-in plasma screen for presentations. Data port workstations provide ideal Fisherman's Wharf meeting venues for technical presentations. Enjoy natural lighting, modern amenities and a sharp atmosphere that will dazzle your guests.
Categories: Hotel, Weddings, 200+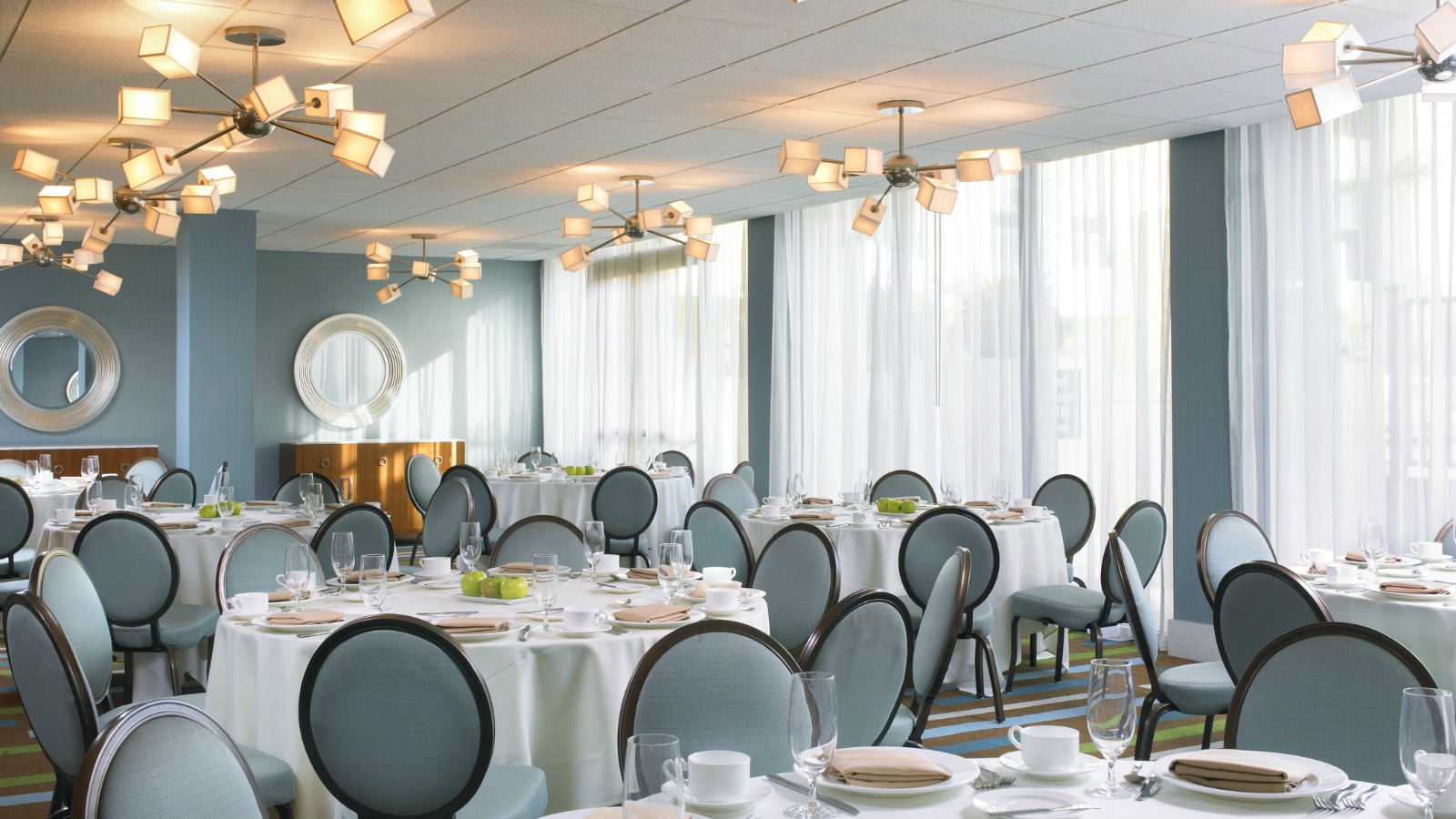 Sleeping Rooms: 531

Suites: 8

Meeting Rooms: 11

Total Meeting Space: 10,405 Sq. Ft.

Largest Meeting Room: 2,463 Sq. Ft.
The excellent location of Sheraton Fisherman's Wharf Hotel puts you in the heart of San Francisco's most popular neighborhood. You'll be steps away from things to do in San Francisco, including Pier 39, Ghirardelli Square, Alcatraz Island, and the world famous San Francisco Cable Car lines. Enjoy the fresh air with a swim in our outdoor heated pool or relax with a cocktail at our outdoor living room – an extension of our lobby. Our outdoor seating features fire pits where you'll enjoy San Francisco's year round temperate climate and our PAIRED program featuring wine, beer and small plates. At the end of the day, sink into the cozy comfort of the signature Sheraton Sweet Sleeper® Bed.

Our San Francisco meeting and event space has been transformed into an undiscovered gathering place for San Francisco weddings or meetings. Our open spaces, like the communal lobby and outdoor fire pits make it an ideal venue in San Francisco for conferences, meetings, and social events. Enjoy friendly surroundings with over 9,000 square feet of flexible Fisherman's Wharf meeting space. Select from one of our three ballrooms, each featuring over 2,220 square feet of space. Our two boardrooms provide the perfect spot for small meetings.
Categories: Hotel, Weddings, 200+